Facilities 
Occupying a planned area sized of about 40,000 square metres, E Hub has a total building area of about 27,000square metres. The character of EHub is illustrated by its modern quadrangle campus concept generated through a design composition of simple, stylish, durable and high-end building clusters, making good use of open areas and avenues.
The community will help bring innovative young people together building a stronger sense of belonging. The functional buildings include Incubator Blocks, an Exhibition & Entrepreneurial Service Centre, an Innovation Centre, the Entrepreneur Academy and the Residence.
Incubator Blocks
University campus setting to encourage interactive exchange of ideas                                                                               
Three Incubator Blocks will house about 200 start-up companies. The modern, flexible and practical design will suit the needs of different companies at different business cycles forming a special business ecosystem. The well-designed work space coupled with simple office furniture will also help reduce costs for the start-up companies. What is more, the meticulously designed balcony and amenities, including fitness room and common area, will provide a relaxing haven for young entrepreneurs to take a break.
Exhibition and Entrepreneurial Service Centre
Comprehensive professional support with customised services                                                                                                                 
Exhibition and Entrepreneurial Service Centre offers a magnificent and multi-purpose venue of about 3,000 square metres. Well-equipped in a modern design, it will contain customised and professional services and flexible open space for everything from exhibitions to conferences. The "One-stop Entrepreneur Support Centre" is specially designed to serve youth start-ups and small/medium-sized enterprises. The right blend of services include business registration, start-up support and an information desk. The welcoming and well-equipped meeting rooms will set the tone for great meetings, business matching activities, as well as business consultation and mentorships.
Entrepreneur Academy
Fostering entrepreneurial thinking and sharpening business acumen                                                                                                       
The Entrepreneur Academy has a mission to complement the capabilities of start-up teams and young entrepreneurs by providing multi-faceted and systematic training and educational programmes. It also serves as a platform for international exchanges on resources and information thus enabling the culture of entrepreneurship to flourish. Research and analyses on key business trends and industries will also enable incubates to better evaluate their commercial products and services. The Entrepreneur Academy is a multi-use space comprising a large theatre and seminar rooms suitable for a wide range of training and promotion activities.
Innovation Centre
Innovative technology actualising entrepreneurial aspiration                                                                                                                       
The Innovation Centre is a state-of-the-art building offering the very best of equipment to support creative and innovative young entrepreneurs. This will include a studio and various special purpose rooms for recording, film editing, music mixing and video-playing to facilitate multimedia productions.
Residence
An oasis for relaxation                                                                                                                                                                                                   
The Residence will comprise serviced apartments for about 140 tenants. Stylish and with a home-feel design will enable young entrepreneurs and guests to have total freedom and relaxation. The living quarters will also serve as a common area for young talents to meet and gather, expanding their social network.
Qianhai Shenzhen-Hong Kong Youth Innovation and Entrepreneur Hub 2 
The proposal comprises of two buildings, No. 1 (incubator) and No. 2 (accelerator), which are elegant and changeable inside and are adjacent to the first phase. The project is a six-story structure with the goal of creating a "low-cost, convenient, and all-elements" building. It will construct a "innovative industrial incubation core" in the Qianhai area after the project is completed, as well as a Hong Kong "advantageous in innovation" zone.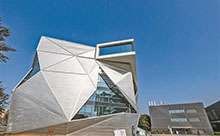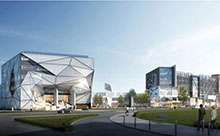 (Images are for reference only)
Market-oriented operation of public welfare projects
E Hub introduces about a dozen incubation carriers, including the Hong Kong X Technology Innovation Platform, IDG, Hong Kong Youth Professional League, Zebra Planet, and others, to give entrepreneurs in the park with overlaid entrepreneurial services.
Hong Kong People, Hong Kong Taste and Hong Kong Service
E Hub introduces ancillary services such as Hong Kong-style real estate and lodging. At the same time, we rely on the Qianhai Administration, Shenzhen Youth Federation, and Hong Kong Youth Association to form the DreamWorks Operation Steering Committee, which will help DreamWorks construct a normal Shenzhen-Hong Kong cooperation management system.
Full coverage of financial services
To provide complete financial support for entrepreneurial youth, fully utilize the benefits of Qianhai financial institutions.
Free Wi-Fi services
To meet business needs, "fibre-to-E Hub" will provide every building with optical fibre access networks. Free Wi-Fi services will also be available for the entire E Hub.
Mobile Telecommunications
To facilitate easier mobile telecommunications, Qianhai will allow Hong Kong mobile telecommunications service providers to render their services enabling calls to be charged at local (Hong Kong) rates.
Rent Relief
To ease the burden of start-up companies, successful applicants to E Hub will enjoy a rent-free office space in the first year to be followed by a concessionary rent rate of 50% off of the normal charges in the second year.
Comprehensive Facilities
E Hub is equipped with versatile facilities and services to help start-up companies manage and accelerate their businesses efficiently and effectively. These include shuttle buses between Shenzhen Bay Port (Shenzhen side) and Qianhai, intelligent security systems, centralised broadcast and telecommunications sytems, furnished office space with smart design and a residence with unparalled service, catering and convenience stores.
One-stop Entrepreneurial Support
The vibrancy of E Hub lies in its nurturing of entrepreneurial activity through one-stop professional entrepreneurial and business support. Multi-dimensional start-up support includes accounting consultations and legal services, training, financing and marketing platforms that will help accelerate start-up companies.
Tax Incentives
Qualified companies are entitled to enjoy a reduced corporate income tax rate of 15%. Qualified overseas talents or professionals are entitled for income tax rebates if their individual income tax exceeds 15% of taxable employment income.
Policy Incentives
Enterprises in E Hub are entitled to enjoy all incentive policies in Qianhai. Qianhai Authority released two policies called "Rules for the Several Measures for Supporting the Development of Youths from Hong Kong and Macao in Qianhai" and "Supporting the Development of Innovative and Entrepreneurial Vehicles".