Google Career Certificates, a suite of flexible online training programs, are designed to provide learners from all backgrounds with job-ready digital skills within 6 months.The program spans 5 major areas of digital skills, including: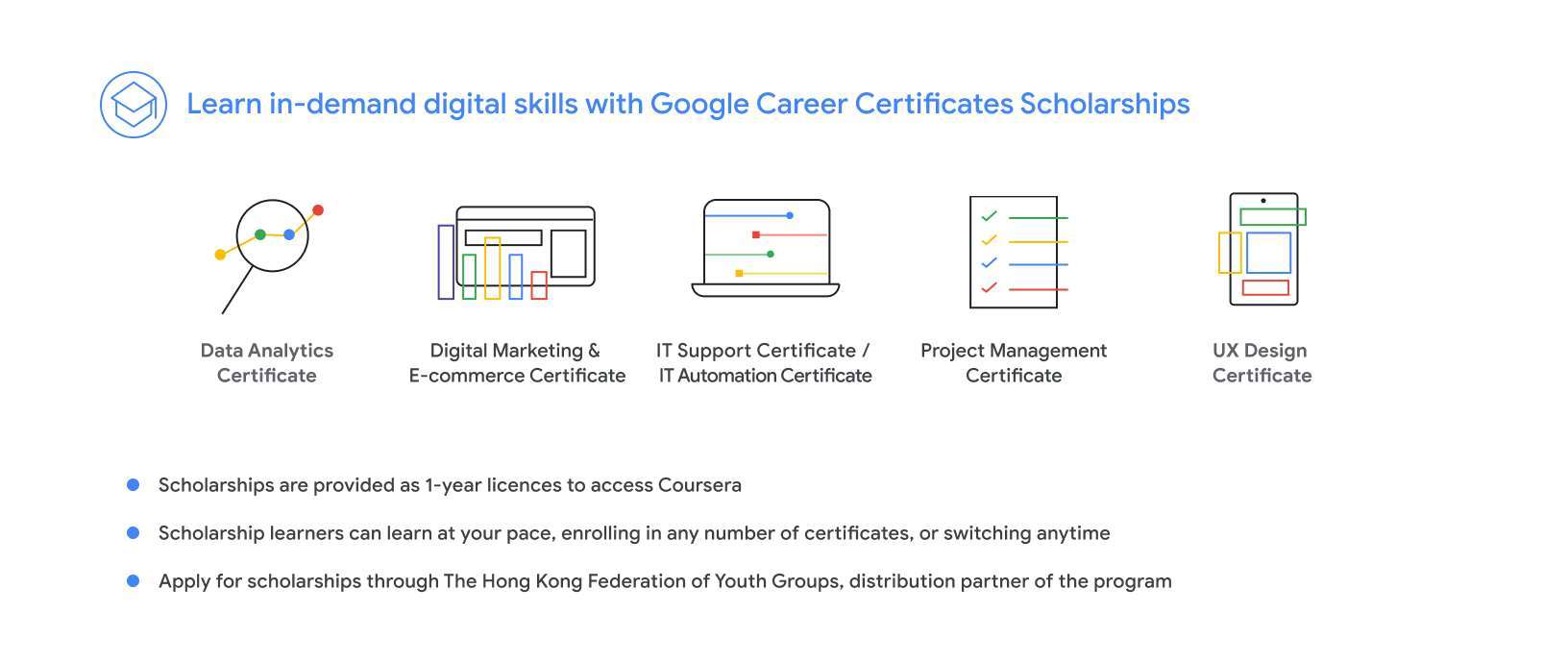 The Hong Kong Federation of Youth Groups cares deeply about youth development and upskilling. This year, we collaborate with Google Hong Kong, distributing the Google Career Certificates scholarships to support at least 1,000 talents from the underserved communities in Hong Kong.
Scholarships include:
1. Learn in-demand digital skills for free
– Receive a 1-year licence to access Coursera to Google Career Certificates
– Learn at your pace – enrol in any number of certificates, or switch anytime
2. Improve Confidence and self-promotion skills
– Participate in #IamRemarkable workshops to  interact with Googlers
– Opportunity to take a  professional headshot for free
Eligibility
Any Hong Kong permanent resident, aged between 16 – 35 years old
Underserved segments including
Low-income (in receipt of the Comprehensive Social Security Assistance and/or School Textbook Assistance Scheme)
Female
Disabled learners
Ethnic Minority
Interested in learning new career skills and technology innovation
Enrolment Period
14 July 2022 – 14 August 2022
Assessment Process
Submit the online enrolment form (https://bit.ly/3yj4GqN). (Applicants are required to enrol via gmail account.)
Applicants will receive a notification from HKFYG secretary. Applicants are required to sign a Personal Data Declaration Form and email it to the secretary on or before 14 August 2022.
After successful enrolment, the applicants will receive a confirmation email from the HKFYG secretary on or before 26 August 2022. They can start a one-year online training journey accordingly. (After completing the relevant courses, they can continue to study other courses in this year.)
Event Terms and Conditions
The Google Career Certificates Program's Google Career Certificates Scholarships and its relevant events ("Event") are organized by The Hong Kong Federation of Youth Groups (" Federation") and supported by Google (Hong Kong) Limited. By participating in the Event, Participants acknowledge and agree to comply with the Event terms and conditions ("Ts&Cs"). We reserve the rights to change Event terms and conditions without prior notice, such changes are applicable to new and existing participants if they continue to participate in the Event.
The Federation reserves the right to make final decisions in terms of the participant's eligibility. If the participant provides  incorrect information or does not appropriately follow the registration procedure to participate in the Event, the Federation has the right to object to the application. If the participant provides false information, participates in the Event with a false account, pretends the other person to participate in the Event, participates in the Event without honesty, violates the Event rules, or conducts cheating behaviors in any form,  the Federation reserves the rights, including but not limited right relating to disqualification of participation and reward redemption.
The Federation shall not in any event be liable to any loss or incorrection of information caused by internet transmission while they are submitted by the participant.. If the Event can not take place due to force majeure, the Federation has the right, to the full extension permitted by the applicable law,  amend, suspend, cancel, or terminate the Event.
The Federation reserves the rights to amend, change and suspend the Ts&Cs.  The Federation has  the rights to interpret and make supplements as necessary. By participating in the Event, participants agree to be bound by the Ts&Cs.
Participate shall  use one Gmail account to register all matters relating to the Program, included but not limited to Google Career Certificates Scholarships application, courses registration, #IamRemarkable workshop registration and reservation of Photobi's headshot photography services.

Registration for the #IamRemarkable workshop will open one month ahead of the activity. (For example, the workshop on September 15th will open for registration on August 15th)
#IamRemarkable workshop's quota is limited and seats will be offered on a first-come-first-served basis to those who have completed the registration procedure. Each participant is eligible to register one workshop only.
Upon confirmation of the workshop, neither modification nor cancellation will be allowed (participants will be notified if a workshop has to be canceled or rescheduled) . If an enrolled participant fails to attend a workshop, his/her workshop quota will be forfeited.
If a participant is unsuccessful in workshop registration (e.g. due to full capacity), he/she may try again next month once the registration session is open up.
Each #IamRemarkable workshop attendee can only redeem for Photobi's headshot photography service once.
Participants should follow all measures and rules provided by Photobi to collect and use its product and service. Participants  agree that the Federation and Google shall not be held liable for any dispute arising from the photo service, which  shall be settled directly between the participant and Photobi.
Contact Us
The Hong Kong Federation of Youth Groups Social Innovation and Youth Business Unit
Tel: 3595 0945 (Ms. Queenie Ting / Ms. Stephanie Ng)
Email: gcc@hkfyg.org.hk
Address: Room B-E, 11/F, Genesis, 33-35 Wong Chuk Hang Road, HK
Website: sic.hkfyg.org.hk